DVD

BLU-RAY

CD

TV

DISTRIBUTION

PRESS

LABEL

NEWSLETTER

JOBS
SEARCH

LLOYD NEWSON DV8 PHYSICAL THEATRE
Dead Dreams of Monochrome Men - Strange Fish - Enter Achilles
Adrian Johnston, Jocely Pook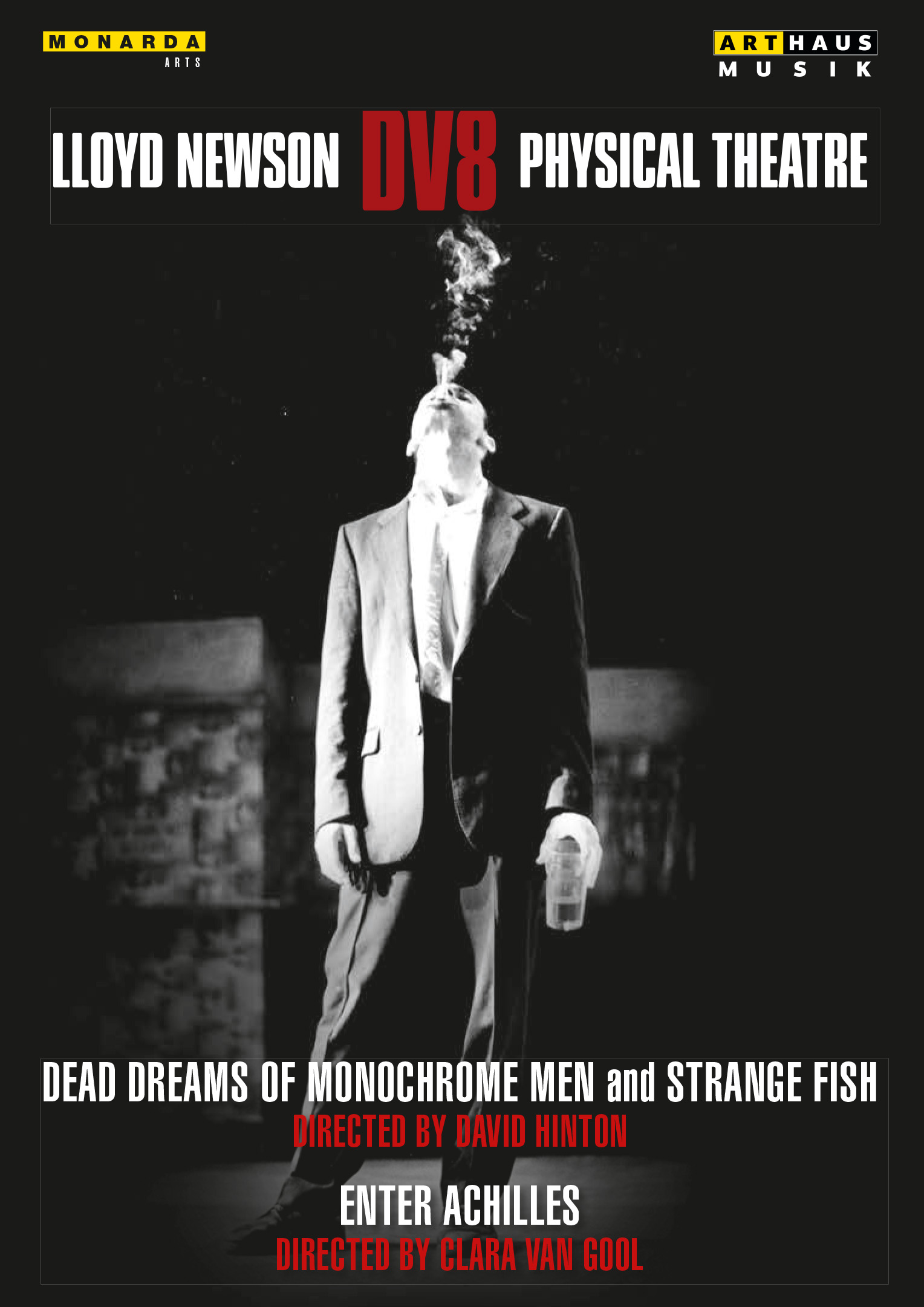 Adrian Johnston, Jocely Pook
LLOYD NEWSON DV8 PHYSICAL THEATRE
Dead Dreams of Monochrome Men - Strange Fish - Enter Achilles
1889, 1992, 1995
Soloists:
Lloyd Newson, Nigel Charnock, Gabriel Castillo, Cate Campion, Jordi Cortes Molina and many more
Director:
David Hinton, Clara van Gool
Choreographer:
Lloyd Newson
DEAD DREAMS OF MONOCHROME MEN | 1989 Directed by David Hinton Devised and created collaboratively under the direction of Lloyd Newson Performed by Lloyd Newson, Nigel Charnock, Russell Maliphant and Douglas Wright Music by Sally Herbert "…painful, original, convincingly observed and compassionate…" The Times STRANGE FISH | 1992 Directed by David Hinton Adapted for the screen by Lloyd Newson and David Hinton Performed by Kate Campion, Nigel Charnock, Jordi Cortes Molina, Wendy Houstoun, Melanie Pappenheim (Vocals), Diana Payne-Myers, Lauren Potter and Dale Tanner Music by Jocelyn Pook and Adrian Johnston PRIX ITALIA 1994 SPECIAL PRIZE - MUSIC & ARTS "The playing of the ensemble, the brilliant confl ict and complementing of personalities; the shared sense of risk and trust, the acuteness of timing and physical response is matched by an emotional awareness that is dazzlingly communicative." Financial Times ENTER ACHILLES 1995 Directed by Clara van Gool Adapted for the screen by Lloyd Newson and Clara van Gool Performed by Gabriel Castillo, Jordi Cortes Molina, Juan Kruz Diaz de Garaio Esnaola, David Emanuel, Ross Hounslow, Jeremy James, Liam Steel and Robert Tannion Music by Adrian Johnston EMMY AWARD 1997, PERFORMING ARTS, NEW YORK "A rare, rich devastating, triumphant work of art ... dramatic coherence, human integrity, irresistible visual power, were all there in this outstanding work..." Daily Telegraph Dead Dreams of Monochrome Men begins with lascivious glances in a gay bar and ends with a brief glimpse from behind closed curtains onto the empty, sunlit street outside. Strange Fish opens with a semi-naked woman hanging Christ-like from a cross, singing. The piece ends with a similar scene, in which the woman lies crumpled on her stomach on the hard, dusty ground – shaken down from the cross by the protagonist (Wendy Houston), who having searched for a man to love is instead visited by nightmarish, biblical plagues. Enter Achilles is set in a pub, a place where men meet to drink, sing karaoke and carry out their male rituals, and ends the following morning with a view of the club from the outside. Lloyd Newson's psychodramas unfold in enclosed spaces such as these. In Dead Dreams of Monochrome Men a bare and unfurnished set, structured using light and shade, a wall, an opening, a bathtub; the hotel in Strange Fish – empty, dusty and abandoned; or the old-world comfort and traditional authenticity of the pub in Enter Achilles. The characters that occupy these spaces react savagely, longing desperately for human company, tenderness and recognition.
Label:
Arthaus Musik
Genre:
Ballett
Running Time:
158
Sound Format:
PCM Stereo
Number of Discs:
1
Region:
0
Languages:
GB
EAN:
4058407092537
Blu-ray:
109254