DVD

BLU-RAY

CD

TV

DISTRIBUTION

PRESS

LABEL

NEWSLETTER

JOBS
SEARCH

L'ENFANT ET LES SORTILÈGES & PETER AND THE WOLF
Maurice Ravel, Sergei Prokofiev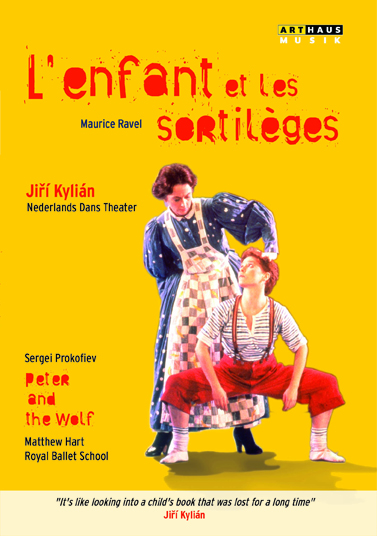 Maurice Ravel, Sergei Prokofiev
L'ENFANT ET LES SORTILÈGES & PETER AND THE WOLF
1986
Orchestra, Chorus:
Choeur et la Maîtrise de la RTF, Orchestre de l'Opéra national de Paris, Neder
Conductor:
Lorin Maazel
Choreographer:
Jiří Kylián, Matthew Hart, Anthony Dowell
These two ballet recordings, based on the music of the French composer Maurice Ravel and the Russian composer Sergei Prokofiev, are recommended to every child, youth and adult whose heart and mind are open for a musical and dancing encounter with the world of fairy tales. Both of them are about a small boy and his dealings with the nature surrounding him. Despite there similarities, though, the two works are fundamentally different. It is the difference between the two which makes this combination so appealing. There are vast differences in content, the structure of the plot, the type of composition and the treatment of orchestral instruments, on the one hand. On the other, the means used by the Nederlands Dans Theater and the Royal Ballet School to realize the material make ''L'enfant et les sortilèges'' and ''Peter and the Wolf'' two entirely unique works. ''L'enfant et les sortilèges'' presents a fantastic ballet fairy tale rich in witty inspirations in dance, costume and stage design with the choreography and design of Jiří Kyliáns and the pioneering Parisian opera allusion under Lorin Maazel. This production was awarded several prizes. And rightly so, for nary any other ballet has ever been met with such enthusiasm and amusement while deeply touching its audiences.
Label:
Arthaus Musik
Genre:
Ballett
Running Time:
81
Picture Format:
4:3/16
Sound Format:
PCM Stereo
Number of Discs:
1
Region:
0
Languages:
GB, DE
Subtitle Languages:
DE, FR, NL
EAN:
0807280010398
UPC:
807280010398
Blu-ray:
108133
Adrian Johnston, Jocely Pook
DEAD DREAMS OF MONOCHROME MEN | 1989 Directed by David Hinton Devised and created collaboratively under the direction of Lloyd Newson Performed by Lloyd Newson, Nigel Charnock, Russell Maliphant and Douglas Wright Music by Sally Herbert "…painful, original, convincingly observed and compassionate…" The Times STRANGE FISH |(...)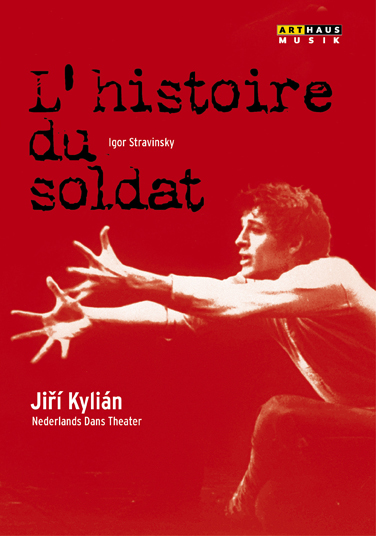 Igor Stravinsky
Jiří Kylián feels a great affinity for Stravinsky, who, like himself, was forced to leave his homeland. He describes the composer's music drama L'Histoire du soldat as a ''surrealistic fairy tale for grown-up children''. His version of the piece uses the original French version libretto by Charles Ferdinand(...)