DVD

BLU-RAY

CD

TV

DISTRIBUTION

PRESS

LABEL

NEWSLETTER

JOBS
SEARCH

MARISS JANSONS CONDUCTS
Ludwig van Beethoven, Richard Strauss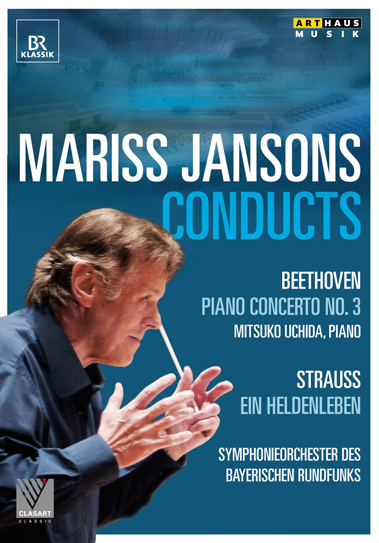 Ludwig van Beethoven, Richard Strauss
MARISS JANSONS CONDUCTS
Soloists:
Mitsuko Uchida (piano)
Orchestra, Chorus:
Symphonieorchester des Bayerischen Rundfunks
Conductor:
Mariss Jansons
Beethoven wrote his Piano Concerto No. 3 around 1800, at a time in which the ambitious composer had created his first important works in Vienna, such as the "Pathétique" Sonata and the "Moonlight" Sonata – personal works full of power and passion, with which he distanced himself from his mentor and model, Haydn. This performance of Beethoven's Piano Concerto No. 3 with the Symphonieorchester des Bayerischen Rundfunks under the direction of its principal conductor Mariss Jansons stars the distinguished pianist Mitsuko Uchida, who is known the world over for her outstanding interpretations of the piano works of Schubert, Mozart and Beethoven, as well as of 20th-century masters such as Schoenberg, Berg, Webern and Boulez. Richard Strauss wrote his tone poem for large orchestra "Ein Heldenleben" ("A Hero's Life") in 1898, shortly before he left Munich for the Berlin Court Opera, where he was appointed house conductor. In the imaginary hero whose eventful life is described in the work, the young Strauss apparently envisioned the freelance artist of his time, who was exposed to considerable hostility during the Wilhelminian era, just as Strauss himself in his early Munich period.
Label:
Arthaus Musik
Genre:
Konzert
Running Time:
95
Picture Format:
16:9
Sound Format:
PCM Stereo / Dolby Digital 5.0
Number of Discs:
1
Region:
0
EAN:
0807280168396
UPC:
807280168396
Blu-ray:
108079