DVD

BLU-RAY

CD

TV

DISTRIBUTION

PRESS

LABEL

NEWSLETTER

JOBS
SEARCH

COSÌ FAN TUTTE
Wolfgang Amadeus Mozart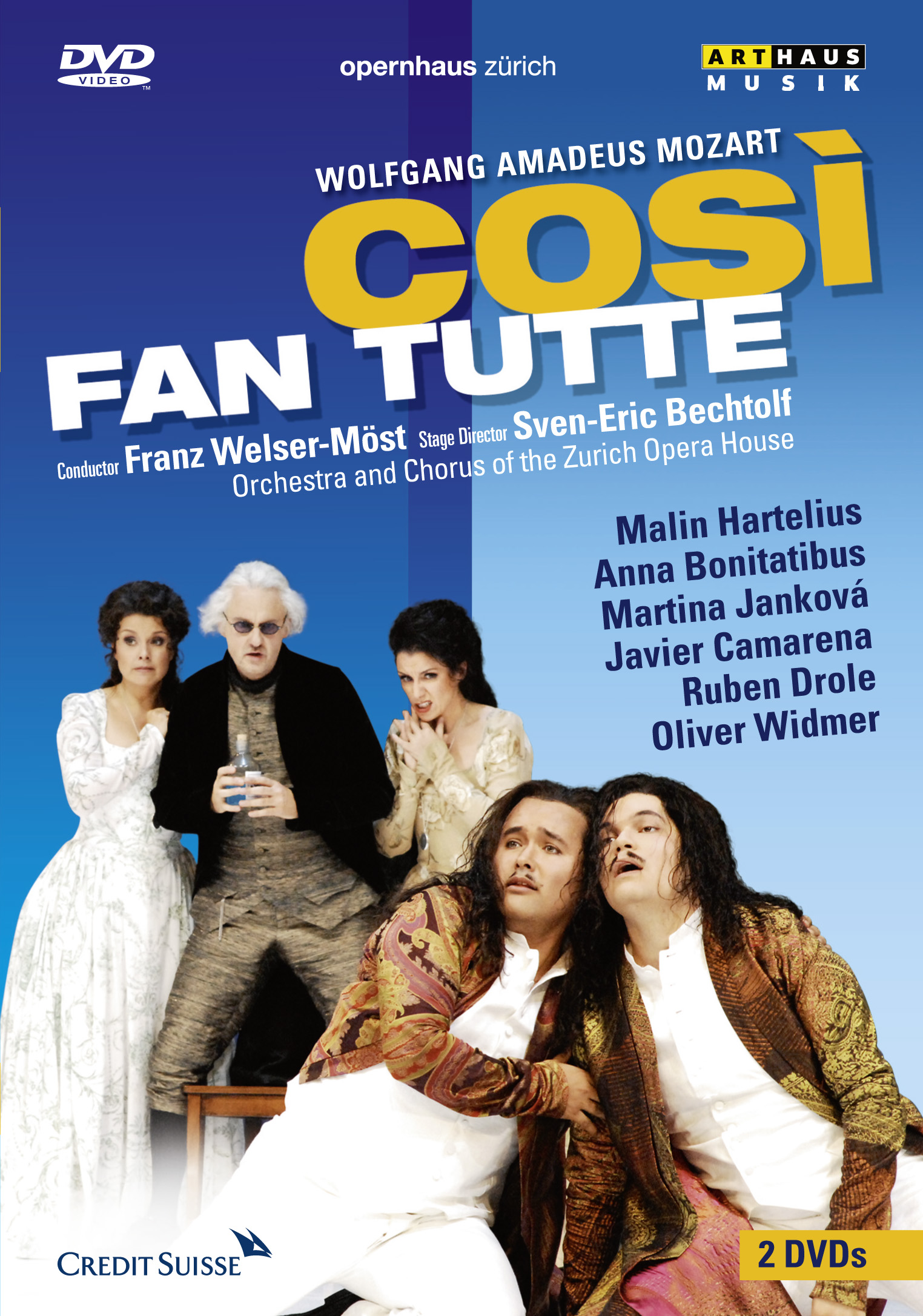 Wolfgang Amadeus Mozart
COSÌ FAN TUTTE
2009
Soloists:
Malin Hartelius, Anna Bonitatibus, Javier Camarena
Orchestra, Chorus:
Chor und Orchester der Oper Zürich
Conductor:
Franz Welser-Möst
Director:
Sven-Eric Bechtolf
Jealous men and unreliable women: Mozart's "Opera buffa" Così fan tutte is a masterpiece of its genre. This operatic gem which is part comedy, part tragedy is a wry study in love, manipulation and trust. After having cooperated twice before (Le nozze di Figaro, Don Giovanni) Così fan tutte was the third and last collaboration of Mozart and librettist Lorenzo Da Ponte. It is a clear-sightedly view of the confusion of human relations and opens up an abyss that seems to go far beyond the framework of a "Dramma giocoso". In the tension between love and passion, security and selfnegation, faithfulness and betrayal, the couples get lost in emotional chaos. Mozart illustrates these diverse emotions with his sublime music which is in turn poignant and stoic, heartfelt and romantic. A fine cast enriches Mozart's stirring music. Under Franz Welser-Möst's fabulous conducting this production of the Zurich Opera House is setting musical standards. In conjunction with the director Sven-Eric Bechtolf, he has developed into one of the leading teams in contemporary music theater. A great score, a famous production and wonderful singers: this Così fan tutte live recorded at the famous Zurich Opera House is a 'must see' for opera lovers.
Label:
Arthaus Musik
Genre:
Oper
Running Time:
200
Picture Format:
16:9
Sound Format:
PCM Stereo / Dolby Digital 5.1 / DTS 5.1
Number of Discs:
2
Region:
0
Languages:
IT
Subtitle Languages:
DE, FR, GB, ES, IT
EAN:
0807280149593
UPC:
807280149593
Blu-ray:
101496