DVD

BLU-RAY

CD

TV

DISTRIBUTION

PRESS

LABEL

NEWSLETTER

JOBS
SEARCH

DIE LIEBE DER DANAE
Richard Strauss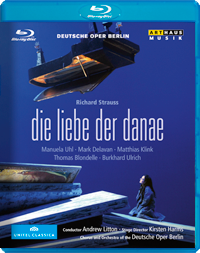 Richard Strauss
DIE LIEBE DER DANAE
2011
Soloists:
Manuela Uhl, Mark Delavan, Matthias Klink
Orchestra, Chorus:
Chor und Orchester der Deutschen Oper Berlin
Conductor:
Andrew Litton
Director:
Kirsten Harms
Richard Strauss completed his second-to-last opera "Die Liebe der Danae" in 1940. Written under war clouds, the "merry mythology" based on an idea by Hugo von Hofmannsthal was given a provisional, by-invitation-only dress rehearsal premiere at the 1944 Salzburg Festival the day before all theaters in the "Reich" were closed by order of the Ministry of Propaganda. The official world premiere took place at the 1952 Salzburg Festival – now no longer in the presence of the composer, who passed away in 1949. As Europe was about to go up in flames, Strauss was pouring his entire arsenal of melodic beauty and lushness into the score of "Die Liebe der Danae". The rarely performed opera is nothing if not a feast for Strauss lovers, with arias, ensembles and orchestral interludes blazing with sumptuous colors and rich textures. A kind of compendium of Strauss' most inspired musical ideas, it is like the swan song of an aged composer who is taking leave from the world on the eve of the catastrophe that will engulf it. Embodying the composer, in a way, is the role of Jupiter, an aging god who realizes that he will never win the love of the beautiful Danae. This timeless production from the Deutsche Oper Berlin can also be seen as the mirror of a changing world order, with a wonderfully suggestive symbol dominating the stage during all three acts: a grand piano suspended upside-down from the rafters. This image can be seen as "an allegory for high and noble art" (Frankfurter Rundschau) or as the symbol of a world turned upside down, ready to come crashing down at any second. Starring Manuela Uhl, Mark Delavan and Matthias Klink in the lead roles, this production does full justice to this rarely performed but exceptionally moving work.
Label:
Arthaus Musik
Genre:
Oper
Running Time:
177
Picture Format:
16:9
Sound Format:
PCM Stereo / DTS-HD Master Audio 5.0
Resolution:
1080i Full HD
Number of Discs:
1
Region:
A, B, C
Languages:
DE
Subtitle Languages:
GB, DE, FR, IT, ES, Korean
EAN:
0807280803297
UPC:
807280803297
Blu-ray:
108032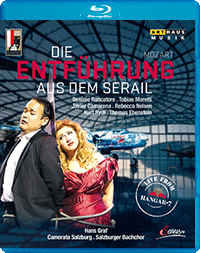 Wolfgang Amadeus Mozart
Opera as never experienced before: a world-class cast, stylish haute couture outfits, the spectacular setting of Hangar-7 with more than 10 different locations and state-of-the-art technology. All of this cut together as a live opera film: a modern and unique production of Mozart's "Die Entführung aus dem Serail" – one of the highlights(...)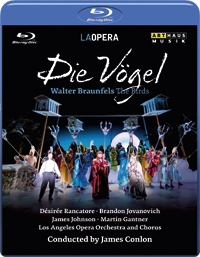 Walter Braunfels
A production of the LA Opera House ground-breaking Recovered Voices project, highlighting the works of composers affected by the Holocaust. Walter Braunfels, a strong advocate of neo-Romanticism, made significant contributions to the world of twentieth-century opera. Yet, he lost his rightful places in twentieth-century opera houses. His(...)