DVD

BLU-RAY

CD

TV

DISTRIBUTION

PRESS

LABEL

NEWSLETTER

JOBS
SEARCH

SCENES FROM GOETHE'S FAUST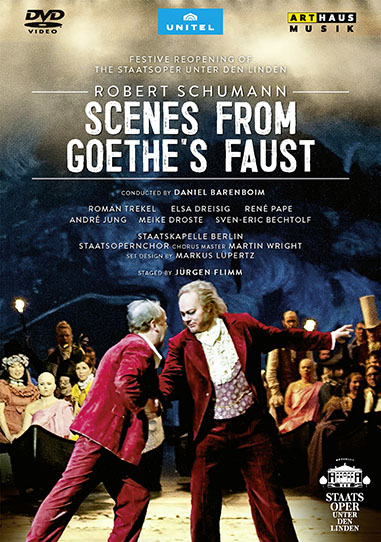 SCENES FROM GOETHE'S FAUST
Staatsoper Unter den Linden
Soloists:
Roman Trekel, Elsa Dreisig, René Pape, Katharina Kammerloher, André Jung, Sven-Eric Bechtolf, Meike Droste
Orchestra, Chorus:
Staatskapelle Berlin
Conductor:
Daniel Barenboim
Director:
Jürgen Flimm
Location:
Staatsoper Unter den Linden
THE REOPENING PERFORMANCE OF THE STAATSOPER UNTER DEN LINDEN ON 03 OCTOBER 2017.

The Staatsoper Berlin is back in ist place of origin: Unter den Linden! After major renovations, it reopens with Schumann's Scenes from Goethe's Faust, conducted by Daniel Barenboim. Under the direction of Jürgen Flimm and in the sets of acclaimed German artist Markus Lüpertz, Schumann's orchestral work is transformed in a captivating drama. In the glow of the renovated opera hall Daniel Barenboim and the Staatskapelle Berlin perform alongside soloists such as Roman Trekel, Elsa Dreisig and René Pape. Besides the vocal parts, the main characters Faust, Gretchen and Mephistopheles are embodied by the renowned actors André Jung, Meike Droste and Sven-Eric Bechtolf.
Label:
Arthaus Musik
Genre:
Opera
Running Time:
150 mins
Picture Format:
16:9
Sound Format:
PCM Stereo, Dolby Digital 5.1
Number of Discs:
2
Region:
0
Subtitle Languages:
EN, DE, JP, KOR
EAN:
4058407094180
UPC:
4058407094180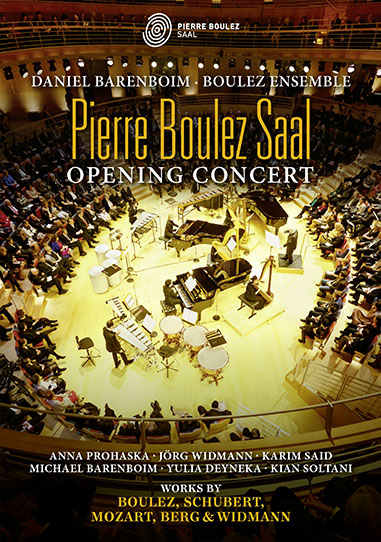 THE FESTIVE OPENING OF THE PIERRE BOULEZ SAAL ON 04 MARCH 2017.

In the Opening Concert of the Pierre Boulez Saal, Daniel Barenboim, the Boulez Ensemble and renowned soloists are celebrating the idea of what this new concert hall of the Barenboim Said-Academy in Berlin stands for: to create a space where beloved classics, modern(...)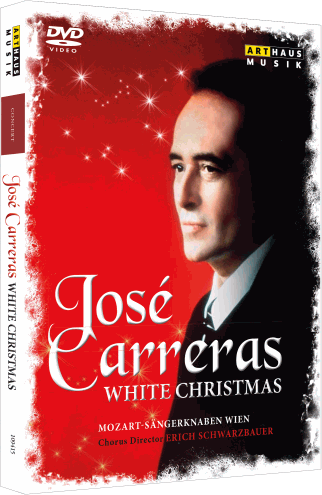 What a pleasure to follow such an invitation – a Christmas Concert with the Spanish star tenor José Carreras, accompanied by the pianist Lorenzo Bavaj and the Vienna Mozart Sängerknaben, placed in the impressive Jesuit Church of Luzern. The program of this evening combines Traditionals and Christmas songs from different centuries. A(...)