DVD

BLU-RAY

CD

TV

DISTRIBUTION

PRESS

LABEL

NEWSLETTER

JOBS
SEARCH

REQUIEM
Wolfgang Amadeus Mozart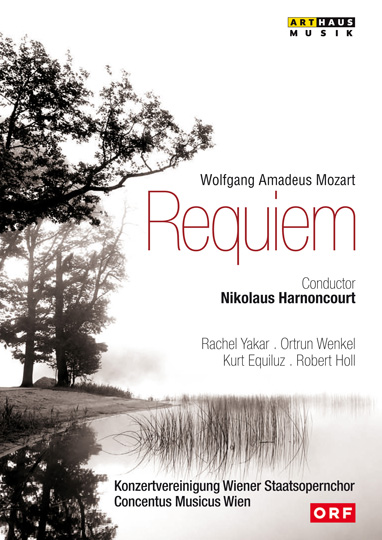 Wolfgang Amadeus Mozart
REQUIEM
1981
Soloists:
Rachel Yakar, Ortrun Wenkel, Kurt Equiluz, Robert Holl
Orchestra, Chorus:
Konzertvereinigung Wiener Staatsopernchor, Concentus Musicus Wien
Conductor:
Nikolaus Harnoncourt
Nikolaus Harnoncourt, who is well known for his renewals of readings of the pre-Classical repertoire and an acclaimed master of Mozart interpretation, presented "his" Requiem in 1981. He used period instruments and a cast of singers experienced in authentic performance practice to introduce a new version of the orchestration. This new orchestration was prepared in 1972 and received its Viennese premiere at this concert in the Golden Hall of the Vienna Musikverein. Natural trumpets, hand horns, an early 18th-century set of timpani and two basset-horns blended with the woodwinds and strings in a novel way and infl uenced the vocal aspect of the work, affecting the dynamics of the performance and even the choice of tempi. Even after more than a quarter of a century, the listener can still be thrilled by the attention with which the soloists and members of the Konzertvereinigung Wiener Staatsopernchor react to these different sounds and to the often unfamiliar phrasing of the Concentus Musicus, whose players support the conductor's interpretation with great commitment.
Label:
Arthaus Musik
Genre:
Konzert
Running Time:
76
Picture Format:
4:3
Sound Format:
PCM Stereo
Number of Discs:
1
Region:
0
EAN:
0807280729597
UPC:
807280729597